Fresh fruit cocktail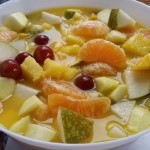 This is such a lovely, healthy, mouth watering dessert or I do sometimes have it for breakfast too. There's not much preparation involved apart from peeling and chopping fruit! But I think the balance of flavours of the fruit I put into it really compliment each other.
Ingredients:
1  Pineapple
4  small eating apples or 2 large
1  large pear or 2 small ones
1 large mango
Grapes
3 or 4 Clementine's or similar
Litre of orange juice
Wash your grapes and leave them to drain. Peel the clementine's and break them into segments and put them in a large bowl. Peel and dice the mango and cut and chop your pineapple in to bite sized pieces adding these to the bowl too. Then wash and chop the pears (conference pears or hard pears are best for this) leaving the apples until last as these will go brown if you don't put them in the orange juice straight away. Finally add the grapes and pour the orange juice over the lot and put in the fridge to chill before eating. You can use any orange juice, I use the value pure orange juice it's just as nice as the premium one, but don't make this without the orange juice unless you are going to eat it straight away as the orange juice stops the fruit from discolouring.