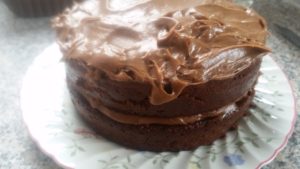 Chocolate Fudge Cake
Ingredients:
175g Self-raising flour
100g Butter (softened)
275g Caster sugar
1 heaped tsp baking powder
50ml milk
3 large eggs
50g Cocoa powder
6 tbsp boiling water
For the filling and topping:
150ml double cream
150g chocolate
1 tbsp golden syrup
3 tbsp jam / lemon curd
Method:
Preheat the oven to 180º and grease two regular sandwich tins.
In a mixing bowl, pour the boiling water over the cocoa powder and stir it in well until its completely blended.
Add the rest of the cake ingredients to the bowl and beat until its a nice smooth batter.
Divide the mixture equally between the two cake tins and place in the oven for 25 – 30 mins until well risen. Slide the point of a sharp knife into the cake, if it comes out clean its done, if its wet then put back in the oven for 5 minutes.
Leave to cool for a few minutes then turn them out onto a wire rack.
To make the filling and topping:
Spread the flavour of jam of your choice over the base of one cake ( I used lemon curd on one side and orange shredless marmalade on the other. This tangy combination is delicious combined with the chocolate.
Cut the chocolate into tiny pieces and place in a heat proof dish with the cream. Put the bowl / jug in a pan of hot water and simmer until the chocolate has nearly melted. Remove from heat and stir until the chocolate has completely melted and then add the golden syrup.
Leave to cool and stir occasionally until the point of nearly setting. This may a little while. Don't leave it until its hardened or you will not be able to spread it, also don't use it until the right consistency is reached or it will just pour out of the sides of the cake. When you think its thick enough spread half for the filling and spread the rest over the top……
Then Make yourself a cuppa and grab a slice of chocolate fudge cake, drizzle over some of the remaining fresh cream and relax…..