Strawberry Cheesecake (No bake)
Ingredients:
180g digestive biscuits
75g melted butter
300g soft cheese
200ml double cream
1 vanilla pod or 1tsp vanilla essence
75g icing sugar.
Topping:
Punnet strawberries
25g icing sugar.
Method:
Crush the biscuits and add the melted butter ensuring all the biscuit is covered with the butter then tip the mix in to a buttered tin and press down evenly with the back of a spoon so its nice and flat. Chill for 1 hour.
Now, place the cheese, icing sugar and vanilla pod/essence into a bowl and beat until smooth.
Add the cream and beat until the mixture goes nice and thick and doesn't drop off the beater but don't overbeat!   Wash and dice approx 4 large strawberries and stir them in.
Next, purée half of the strawberries and add the icing sugar and 1tsp of cold water, then sieve.
Pour over the cake and then add the rest of the strawberries.
Chill for at least an hour before eating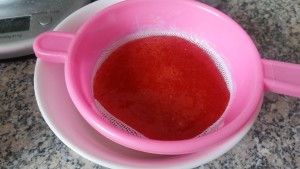 *FOR AN ALTERNATIVE WHY NOT HAVE LEMON CHEESECAKE* ~ Add finely grated zest & juice of 2 lemons instead of vanilla & top with lemon curd