Pineapple upside down cake
Ingredients for the cake:
100g Butter ( softened)
70g Caster sugar
100g SR Flour
1 tsp Baking powder
1tsp Vanilla essence
2 Eggs
For the top:
50g Butter (softened)
50g Light brown sugar
Tin pineapple rings in syrup (or fresh pineapple)
Glacé cherries (or fresh)
Method:
Preheat the oven to 180° gas 4 and start with the topping:
Drain the pineapples and save the syrup.
Beat together the butter and sugar until creamy and spread evenly in the bottom of your cake tin. Place the pineapple rings on top and pop in the cherries.
Put aside while preparing the cake batter
Put the butter and sugar in a bowl and mix until just combined then add the rest of the ingredients together with 2 to 3 tablespoons of the pineapple syrup and beat until nice and soft.
Spoon out the mixture on top of the pineapples making sure it is nice and even and bake for 35-40 mins depending on the size of your cake tin.
TIP: If you are using a loose bottom tin place a baking tray under the shelf that the cake is baking on to catch any stray drips.
Check the batter is cooked through by sliding a sharp knife or a cocktail stick into the side of the cake, if it comes out clean it's cooked but if its wet leave it for another 5 minutes.
Rest for 5 minutes before turning out onto a plate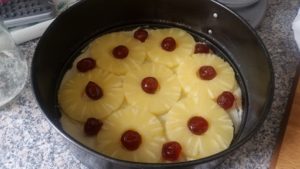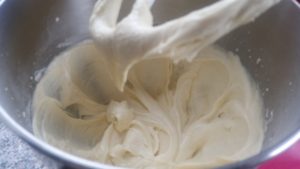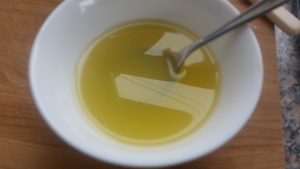 Lady Linda's cake below, it looks delicious