Carrot Cake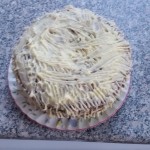 This is certainly not a cake for everyday, I only make one a couple of times a year.  It is the most delicious scrumptious melt in your mouth moorish cakes ever! but don't eat more than one slice, make sure you only make it when you have people around you to share it with lol. It should come with a health warning it's laden with calories, so be warned! The name 'carrot' lulls you into thinking hmm healthy cake, but no no no it certainly is not… but enjoy anyway 🙂
Ingredients:
180g self raising flour
350g caster sugar
1 tsp baking powder
1 tsp cinnamon ground
3 eggs
220g grated carrot
¼ tsp salt
275 ml sunflower oil (you can use vegetable oil if preferred)
For the frosting:
180g cream cheese
180g melted butter
220g icing sugar
½ tsp vanilla essence
Method:
Sieve together the flour, baking powder, cinnamon and salt.
Put the oil in a large bowl and beat in the sugar.
Beat in the 3 eggs, one at a time, then fold in the dry ingredients and stir in the carrot.
Place the mixture in to a lined tin preferably with a loose bottom and bake for 45 minutes on 180° Then turn the oven down to 170° for an extra 20 minutes.
Leave the cake to cool for 5 minutes and place it on a wire rack.
Now, to make the frosting, beat the cheese, butter and vanilla essence  together. Gradually add the icing sugar, until the mixture is stiff.
When the cake is cooled, slice it in half or into 3 if using a smaller cake tin. using some of the frosting to sandwich it together.
Cover the top of the cake with the rest of the frosting and then enjoy!