Butterfly Cakes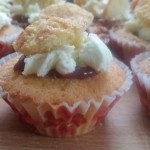 Ingredients:
6oz soft butter
6oz caster sugar
6oz self raising flour (sifted)
½ tsp baking powder (sifted)
3 eggs
A few drops of vanilla essence
Jam
Method:
Cream together the butter and sugar and add the eggs one at a time, beating well.
Fold in the flour and baking powder.
Spoon the mixture into cake cases.
Put in the oven at 180° for 15-20 minutes.
When cool, cut off the tops off the cakes and blob a spoonful of jam and top with buttercream.
Cut the tops in half to create wings and pop them on top.
We sometimes use lemon curd too and make half butterfly and half ladybird (see photos)