Blackberry drizzle cake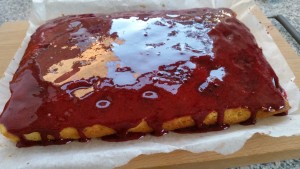 Ingredients:
225g softened butter
225g caster sugar
275g S.R flour
2 level tsp baking powder
4 large eggs
4 tbsp milk
bowl of fresh blackberries
175g of granulated sugar (for the topping)
Method:
Preheat your oven to 160° And line a greased deep sided tin approx 12 x 9″.
Cream the butter & caster sugar in a mixer then add the eggs one at a time while the mixer is still running.
Then fold in the flour & baking powder into the batter and add the milk before its all blended together.
Then give it a quick blitz with the mixer just for a few seconds to make sure it's well blended.
Pour the mixture into the ready prepared tin and bake for at least 30 mins until golden brown and the sponge springs back when lightly pressed. It may take another 10 mins depending on your oven.
Allow to cool for 5 minutes before lifting it out by the paper and placing on a wire rack, leaving the paper still attached.
While the sponge is cooling prepare your blackberry topping by washing the fruit and remove all stalks.
Blitz the fruit with a blender and then sieve it saving just the liquid. I use the end of a spoon to help it through. Then add the granulated sugar.
Stir until all the sugar has dissolved and then comes the fun bit.
While the sponge is still just warm, poke holes all over (I use my funnel) so that when it's cut into squares it's got at least one hole, but make sure you don't go right to the bottom you don't want it leaking out!
Then using a funnel, spoon a tablespoon of blackberry purée into each hole, it doesn't matter if it spills over because it will be all covered anyway.
Then smother the top with whatever is left and leave it to go cold. I usually leave it at room temperature for an hour or so then pop it in the fridge for the same.
This is delicious and a nice alternative to the lemon drizzle cake, especially if you have a glut of blackberries growing in your garden like I do. Not that I'm moaning, I love them, but I'm always trying to make new recipes to use them.
---
---
---