Away for a week! Oh no!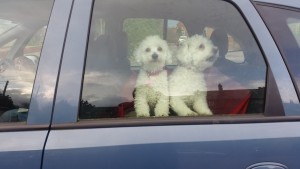 This is the first time in the 2 years since we had them that we were going to be separated from Minnie and Maisie and it feels dreadful!
My hubby booked us a last minute break to Fuerteventura and obviously the dog's couldn't come with us. If it was possible to take them along, they would have been coming. But now the trauma of deciding what to do with M & M was upon us, the holiday was only 4 weeks away!
It is only for one week, but to the dogs it would probably feel like a lifetime. To us, it will fly by as we enjoy our G&T's by the pool and soak up the well needed sunshine, we will wonder where the week has gone!
I had offers to look after them from my son Andy and my best friend and neighbour Michael. But things would be 'complicated' if I accepted the help. I considered it carefully, while Minnie and Maisie would be happy in their own home, they wouldn't have been happy at being left to their own devices for any length of time. Andy was busy renovating his shop and Michael was unable to take them for their loved walks and runs on the beach. Kennels was NOT an option, sure, they would be safe but I couldn't do it. I would rather stay at home.
When my eldest son Chris ever went away he used to take his dog Patch to a lady called Marie that would look after him in her own home (if we couldn't have him).
I researched all local organisations to see if something like that kind of service would be a viable option. When I say local, I mean anything up to 50 miles away. But I read different stories, I went on all sorts of forums for advice and in the end I still wasn't 100% happy with my findings.
There are lots of people out there professing they will love your pet, treat it as their own while you are away and give it home from home comforts. But how do you know? They might shut it in the shed at the bottom of the garden, feeding it occasionally and never take your beloved pet for a walk! I know, I know, my mind goes walkabouts, but I cannot help but fear the worst! These two little girls mean the world to me and I have to be sure they will be looked after in a manner that they are used to.
Unfortunately what person is going to want two little poochons to share a bed with them? ……… ? Marie, the lady who looked after Patch! ? Apparently Patch loved staying with her for short breaks, she used to walk the legs off him, play games with him and she let him share her bed…..perfect!      The problem was, she lived about 150 miles away.
But the fact that she had come so highly recommended to us by our son, and the fact that Patch always came home really happy and more importantly he was happy to go back to her was good enough for me. So, I set about phoning Marie to have a chat and see if she was available for our week away.
She sounded lovely and invited us for a cup of tea so that we could meet her and she could meet Minnie and Maisie. So after a 300 mile round trip for a meet and greet and a cup of tea, the deal was done.  She reassured us that Minnie and Maisie would be loved, walked, played with, nurtured and very importantly…go to bed with her, what more could we ask for! She said she would send photos of what they were up to regularly and would be there for us to contact her if we wanted to. Oh and she would be only having my two girls, no other dogs would be staying during that week. I was relieved because I didn't want them to feel threatened with another dog or afraid to eat or relax. Perfect  🙂
As we travelled back home up the motorway I felt relieved that everything was going to be ok and the girls were going to be loved. It concerned me as little bit because they were usually so outgoing with people but at Maries house they were 'shy'. Minnie gave her a little lick but Maisie stayed on my hubby's lap or at the back of my leg. it was as if she knew!
They huddled up together in their bag on the way home looking very depressed. Their bag is a huge bag that completely covers the back seats in the car and loops over the headrests on the front and back seats. I bought it when we first had the dogs because all the sand, dirt etc is nicely contained and they feel safe in it. If we go out in someone elses car minus the bag, they are nervous wrecks!
The day arrived for us to take the girls to Marie's and they knew something was amiss. While I packed up their belongings a lump was in my throat. I was frightened for them and I was frightened for us, everything was running through my head. What if a big dog got hold of Minnie or Maisie and ripped them to pieces, I know it was extreme but I couldn't help it. What if the plane crashed or we were abducted or they were abducted!! The faster we were on that plane and on our way the faster we could be on the plane on our way back.
We gave them a big run before we left for Maries and they were having a great time playing ball. We didn't go on the beach because it was really windy and the sand blows in their eyes. Then it was into the bag and off to the pub on route for a quick lunch. They love going into the pub 🙂 they get titbits passed under the table by me. I take a little pink quilt that I made for them and they lie on it under or at the side of the table and they are as good as gold.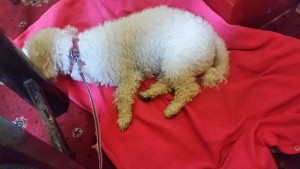 ---