Bread rolls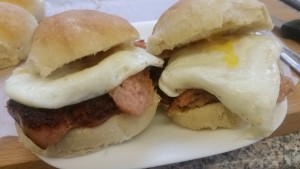 These are gorgeous bread rolls and probably as good as you get from a bakery! I have never ever been able to make bread. Over the years I have tried and tried and failed and failed again! They come out either like scones or stones and that's no exaggeration.
Then along comes my son one day and he states he is going to make some bread rolls. I scoffed thinking yeah right! I had long since chucked my bread maker in a box to take to the charity shop. So he digs it back out of the box, cleans it and begins. I left him to it and a couple of hours later I was gobsmacked when he walked in with perfect bread rolls! I mean, really perfect bread rolls! If I hadn't seen him making them with my own eyes I would have sworn that he had nipped to the bakery and bought them they were that good!
Needless to say, they lasted 5 minutes. I thought it must have been a fluke until the next day he made another batch that were equally as good. Then the next day, and the next so I have to admit he has actually achieved perfect bread rolls from the very first time he baked them, something I have never been able to do!
I love baking everything and anything but I got to loathe trying to make bread. Now he has restored my confidence and I am sharing this easy recipe with all you people who can't make bread either! Try it, it does work 🙂
Ingredients:
500g Bread flour

3 tsp dried yeast

50ml oil

1½ tsp sugar

1 tsp salt

250 ml warm water
Method:
We used a basic bread maker to mix the dough but not to cook it.
First place the warm water in the machine and add the oil, sugar and salt.
Next add the flour making a well in the top to place the yeast. After adding the yeast put the lid down and set your machine to do the kneeding and the first proving.
We used the machine's dough setting which took approximately 1½ hrs. When completed remove from the machine and weigh the dough and divide by 9 or how ever many rolls you want to make depending on the size you want. Ours are a regular size.
On a lightly floured board knead the dough and then cut into equal sizes weighing each portion to ensure an even bake and size.
Form the dough into a round tucking any unevenness underneath then place on a baking tray lined with greaseproof paper.
Place the baking tray in a warm place for approximately 30 mins and leave it to prove for the second time. We place a dish of boiling water close to them so they don't dry out.
Preheat the oven to 165°c and when the rolls have risen pop them into the oven for 12 minutes or until they are well risen and lightly browned. Tap them on the top when they come out and if they sound hollow they are done!
These are very versatile bread rolls, they will perfectly accompany a bowl of soup or will equally be a great partner for bacon or sausage and egg 🙂