The lily bow
This is a tutorial for a 'longer than average lasting' dog toy! This was specially made for LILY who loves to destroy her toys as soon as she is given them. Hopefully this will last more than a morning……..time will tell !!!!!!!
Lily bow update : – see below
This is for dogs that get great enjoyment from ripping apart their toys. I'm not saying it is indestructible but it will take a little while longer to dissect!
Firstly, get together a good strong piece of fabric, you need something strong like deckchair or canvas type fabric, decide on the size of toy you want obviously depending on the size of your dog. Mine is  30cm x  25cm. Then set your machine to zigzag and run it up and down the fabric to stabilise it. Then when you've gone one way, turn your fabric and zigzag the other way.
Then fold in in half length ways and sew up both sides . You don't need to be too neat about it as this will not be seen (not until the dog pulls it apart anyway!) Having good strong stitching is the main thing. It should now resemble a long bag.
Now depending what you are going to put in, depends on how many pockets you need to make. I made mine with 3 little pockets. The one end has a squeaker, the other end a rattle and the middle has some crinkly plastic. You need to protect the items from sharp teeth, you don't want them to pop the squeaker with the first bite so wrap it in carpet tape, ensuring that the squeaky end is uncovered. The same with the rattle bit, wrap it up because if its bitten through at least no jagged edges will protrude.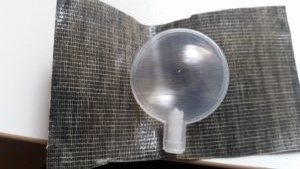 I used brittle polythene , folded over and over again so it has a crinkle sound. Poke the squeaker in one end and sew along trapping it to keep it in its own pocket. Then poke the plastic in and sew along again then finally put the rattle in and sew up the end.
Now you need to get your 'outer' fabric, again it needs to be pretty strong, but it needs to be flexible enough to be able to squeak!  This needs to be approximately 5cm longer and wider than the original. Fold over the fabric and sew up the side and bottom, turn it right side out and it again resembles a long thin bag.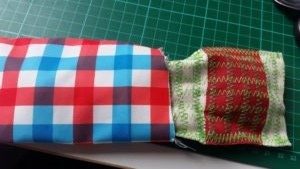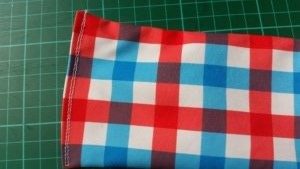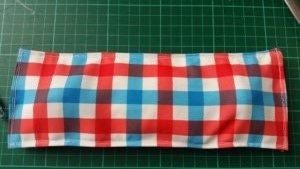 Poke the toy into its new bag and push the raw edges in at the top and sew over. Double stitch all the way round making sure it's enclosed. Then cut a piece of fabric for the middle of the bow. This needs to be just short of the length of the bag and twice the width.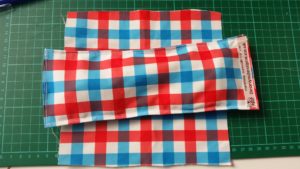 Fold over length ways and sew up the long side making a tube. Turn right side round and fold in half again and slide it over the bow. Sew this along each side so that it doesn't slide about, this gives extra reinforcement! And if you want a real posh toy you can personalise it 🙂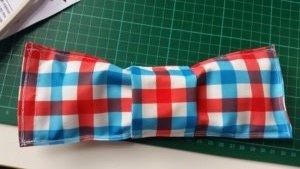 IF YOU HAVE A LILY DOG DONT BOTHER MAKING THIS TOY IT ONLY LASTED 30 MINUTES!!!
Dont be fooled when you look at this beautiful little girl with the beautiful little name LILY. Her name alone sends you into an imaginary field of delicate flowers and graceful gentle movements!!
Inside this gorgeous little dog lurks a monsterous jaw of pointed gnashers that she has no control over  (bless her)! When confronted with a new toy she loses all sense of reasoning and it has to be annihilated! It matters not that her name is emblazoned on it!