Dog bandana / scarf
This is a tutorial for a through the collar reversible bandana. Its a very easy project and look how lovely your pooch would look. It can be worn at the back of the neck or the front of the neck …its your choice.
This is for a small size bandana, you need to draw yourself a template like mine in the photo. In case you can't see the measurements it is 20.5cm (8″) from the point to the top and the same measurement across the top. From the top to the flag line it measures 5cm (2″)
Then cut yourself two pieces in the fabric you have chosen. I prefer to use lightweight cotton. In my example I am using Cath Kidston spotty fabric.
Place your fabric right sides together and sew along the top line (now at the bottom). Open up the fabric and fold in, pin and then sew along both straight edges.
Then fold in half again with right sides together and you need to sew down to the point on both sides
Then zigzag down the edges to prevent fraying
Turn right side round and press (I didn't because I hate ironing) then stitch around the edge of the flag.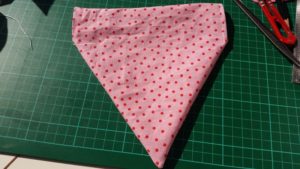 Then thread your collar through and its done…. I told you …its simple!