Xmas tree decorations from scraps
What better way to use up a few fabric scraps than make something simple but beautiful for Christmas. These can be made into a bunting/garland or just to hang on the tree.
Firstly, start by drawing your Christmas tree. I generally use foam pieces that you can pick up from all craft shops, they are cheap and come in packs of at least 12. It just means you will be able to keep the template and it wont get 'dog eared' like paper. Also to save foam, I only cut out half of the tree, saving the rest of the foam sheet for another project…..ever the frugalist!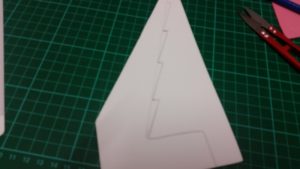 Then get a piece of card, not thick cardboard because you need to sew through it, cereal packets will be perfect, cut out the tree shape. Grab a handful of colourful scraps and you can now begin 🙂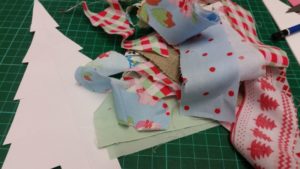 Start at the bottom and work up. I had small pieces of brown hessian for my tree trunk. You need two pieces, one for each side. Place over the cardboard like a sandwich, you don't have to be exact because it gets trimmed after sewing. Machine all four sides.
Place the next fabric you have for the bottom and you can pin in place to keep the front and back together while sewing if you prefer. Again sew all around but follow the shape of the cut cardboard.
Trim into shape and then add the next fabric, pinning and sewing into the place before trimming.
Keep going up the tree adding and layering your scrap strips. You can make these trees as tall or as short as you wish. They make lovely unique bunting and you can use them year after year.
Having the middle made from cardboard stiffens the tree allowing it to hang perfectly. Sew on a loop at the top with which to hang it from.
I added a little bow on both sides of mine, but you can go wild and decorate it with buttons and sequins and anything that takes your fancy……go on…go wild with your imagination 🙂