Fabric ABC 
 All these lovely fabric letters of the alphabet, one of each, are made from scraps of fabric. I went through my bag of odds pulling pieces 4 or 5 " in length and then arranging them to see which letter would fit better. I was lucky to find 26 different designs! After quite a bit of sorting I was ready……
Either print out the alphabet from Microsoft Word using a clear font like Arial or use large stencils at least 4″. Stencils are easier to use and of course you can use them over and over again.
Then pick your fabrics. Choose well, you will want to be able to wash them, probably frequently! They need to be colourfast and bright and cheerful.
Take your first colour of fabric and draw around the stencil. I cut it around roughly then placed it on a piece of wadding with another piece of the fabric underneath. The wadding is just to give it a little firmness.
Sew all the way around the letter with the wadding sandwiched between the top and bottom fabric.
Then using pinking sheers which reduces fraying,  scissor around each letter taking care not to snip the stitching but keeping quite close to them.
Press each letter when finished and then find some fabric to make a little bag to keep them all in.
I used a piece about 5″ x 12″ I made another A & Z just a single piece of each and sewed them on the front of what will be the bag.
Fold the fabric in on both ends of the shortest sides just enough to make a hem. With right sides together sew up each side. Turn right side out and put your letters in!
I used a piece of blackout curtain fabric for my bag. It's great to stitch and durable enough to withstand little hands putting things in and out of it!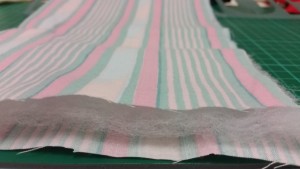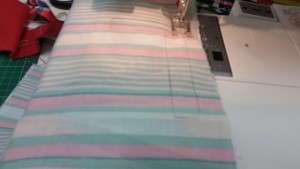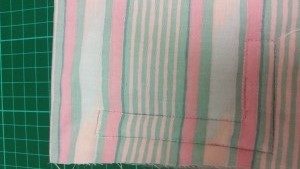 ---