Needle felting for beginners (like me)
This is my first ever attempt at needle felting and I'm chuffed to bits!
Although it is not a beautiful creation like a lot of people can do, I'm proud of myself because I can see that it is a dog.  I was trying to do Minnie and it didn't quite turn out like her but it is a white dog!
Its a brilliant hobby, it is something that you have to concentrate on though. It is definitely not something you would do while watching T.V  I have made that mistake and have a very sore finger because of it! The needles are barbed and if you puncture your skin, which you will do, I can guarantee it, even if your not watching T.V, it is painful, very painful.
I purchased a very cheap kit off Ebay that was shipped from China, it took forever to come but I didn't want to invest in anything too costly just in case I couldn't do it or didn't like it. I bought a bag of needle felting wool called roving. There was 36 assorted colours of little balls of Marino wool for £4.39 and a kit of needles and everything you need to get started for just £4.15!! absolutely amazing value, postage from China was FREE and ok it probably isn't the best quality you can buy but its fine for a novice like me. But I'm hooked, in fact I have just sent for some more roving wool, and yes its from China.
Anyway, if your interested in having a go I will show you how I made my needle felted dog and perhaps you will get hooked too (hopefully not literally!)
Firstly I got some light weight wire, anything will do even pipe cleaners and just make  two the same as this first pic. Then join them together, I borrowed a sparkly pipe cleaner out of my granddaughter Lola's craft box and wrapped the two together like this: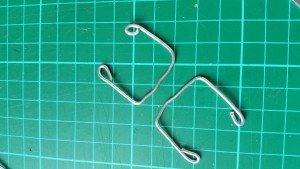 Then wrap it up completely with either the wool roving or do what I did and wrap it in thin strips of fleece. I used  fleeced back towelling because I didn't want to waste all the wool on padding out my dog.
 I'm doing this example in light brown because its easier to photograph than white! But pull the wool apart a little and the wrap around the form. Not too tightly because when you start stabbing your needle in it will tighten up.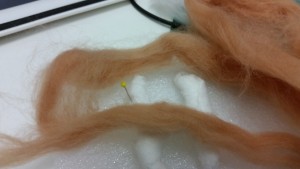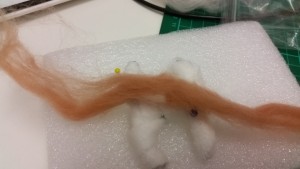 Then put your finger protections on and place the form onto the foam pad and start jabbing at the wool. DO NOT hold it in your hands and stab or even worse put it on your lap because you will regret it!
It takes ages but don't despair it all comes together and starts to resemble a dog ish form in the end. Keep adding little whisps of wool and keep stabbing, covering and shaping all the time. Then if you think you have enough volume, fold the body in half so it is now a headless dog 🙂 If the legs keep spreading open then hold them together and using your needle stab them together at the top of the back legs until it stands without moving.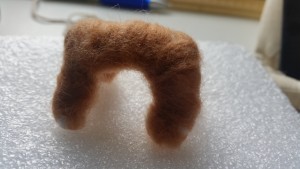 Now to shape the head. Pull a length of wool and wrap it round a straw type object (it just makes it easier but its not necessary if you don't have anything to hand) Then pull it out so its already in a ball shape. Put your finger protectors back on and keep stabbing at the ball that is going to be a head. Add more wisps of wool shaping as you go.
When you think its in proportion to the body, position it where it has to go and stab all around to tie it in. If the shape is not quite right its fine you can remodel it later.
Then do the same for the tail as you did the head wrapping it around a straw. If you want a tip of black or white on the end of tail wrap this colour around first then wrap the main colour around it. Then pull it off the straw and place it on your pad and stab it into a tail shape turning it as you go.
Place the tail on the dog and stab around it until it clings to the body. You will have to do this for quite a time so its nice and firm. Then get three little bits of wool for the eyes and nose and push them into place with your needle. Then place two little bits for the ears on your pad and shape them on there before attaching them onto the head. You can do this before you put the head on if you want to but I have found it easier this way. Add a contrasting bit to form a collar around the throat just to finish it off. Then stand back and admire your first attempt at needle felting!
Yes I know it looks more like a Walt Disney creation rather than a realistic dog but this is only the second needle felting project I have ever done. It was probably simpler if I tried doing something like a ladybird or something, but that's not me, I like to get straight in there!!
One last word of warning, don't do what I did and put your finger protectors on then hold the dog with the finger without any protection while sticking the protected finger up in air??? Why did I do that?? I still don't know! But I savagely stabbed my finger 🙁