Chandelier restoration
I purchased this old rusty chandelier from a boot sale for £3.00. My husband thought I had gone crazy! It did look like a pile of junk but in my mind I could see the finished result. I really wanted a smallish chandelier in my bedroom and could not find exactly what I was looking for. I didn't want a modern one, my home is a 3 storey Victorian house and it had to be in keeping with the age of it.
When I saw this pile of rusty metal I just had to have it and prove him wrong.
First I took it all to bits, which was really difficult because some of the fittings had rusted away. Then I stripped out all of the old wiring taking photos at each stage so I knew how to put everything back!
Then the real work started! Rubbing the rust with sandpaper urgghhh gross, it was like chalk on a blackboard for me, my teeth were on edge!
When the worst had been done (it took 2 days on & off) I painted on something called rust treatment. This had been found at the back of the garage just waiting for this job to come along. It probably originated from the days when my hubby used to do maintenance on his car!
I left it to do it's stuff over night and then I gave each piece of chandelier a coat of metal primer and left it again overnight before applying a second coat of primer.
Then I put it all back together and my husband re-wired it. Then finally, on a lovely wind free day I hung it up on the washing line and spray painted. I did 3 coats altogether and it looks fantastic!
BEFORE: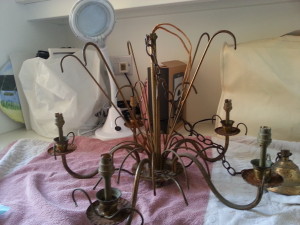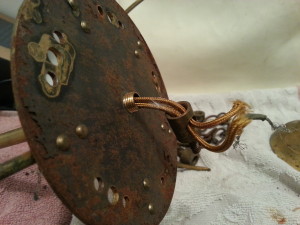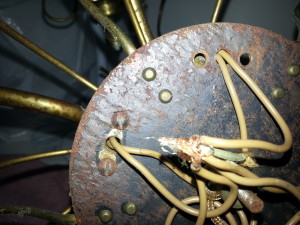 AFTER :