ROLLER BLIND & LIGHT PULLS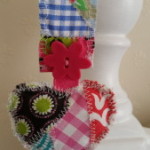 Scraps scraps and more scraps!
I have loads. And if you are anything like me you NEVER throw any scraps of fabric away no matter how small.
I managed to use up a few by making a light pull for my bedroom and when I finished that I thought some matching blind pulls may be nice to compliment it.
I had some spare ribbon the right width for the light pull so began to piece together the scraps on top. I tacked these on to hold them in place. This is a great job to do when half watching T.V in the evening (I don't feel so guilty sitting with my feet up if I'm doing something) keep rolling up the ribbon as you continue to tack the pieces on and then when your satisfied  zigzag  with the machine all around the pieces.  I had a few bits spare and made a mini heart for each of the blind pulls and for my light just to finish it off and added a pretty button. Perfect!