Frames for gifts
We have a local bargain shop that sells a multitude of stuff and you can buy some great items for great prices. They buy a lot of bankruptcy stock and end of line items. I get some very interesting items from there, its one of my favourite shops! I'm sure there is a similar shop in a town near you, don't be put off going into a bargain shop thinking it will be just tat, very often there are good quality items at a fraction of its normal selling price.
One day when browsing I came across a shelf full of small frames. Hmmm, my brain goes into gear straight away and I'm thinking what I can do with them. I already have a cupboard full of frames, all different sizes but these are different, these are shadow box frames 🙂 So I buy half a dozen and take them home to see what I can do with them. This is what I came up with:
This is the front and the back view
I opened up the back and measured what size the card had to be in the back. Then made a novelty picture of lots of fish in the sea and a little boat and fisherman. I added a few words and printed the image off. Then finally added a little bow and its now a perfect gift for your loved one  🙂
Or you could make a lovely mothers day gift or mums birthday like this 🙂
All you need is a few lovely words printed off a regular printer and a bow. You can make a simple flower and a little button and using double sided sticky pads to secure.
Or you could make a novelty frame like this 🙂
Just by printing a few words and adding a packet of Rolo's and maybe a little padded heart you could make a BIG statement!
Or maybe…………
You can fill it with chocolate M&M's ( or similar) mmmm yummy, stick a couple of stickers on the front, again using your regular printer to print them off. Oh, you should remove the sweets from their original bag, ( and don't eat any!) but for hygiene reasons put them in a clear bag before placing in the frame.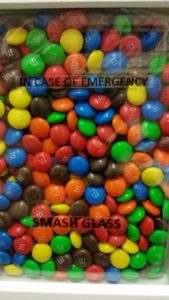 Or finally …….. for my last empty frame
How about a few simple words of love, a little ribbon and a little padded heart and a lot of  LOVE
❤️💜🧡🖤💛💚💙💕💖💝❤